Shipping Service

Northeast Car Connection offers a quick, safe and convenient way of taking delivery of your new purchase.
Allow us to arrange transportation of your new vehicle right to your doorstep using our elite transport service.
Using Northeast Car Connection's elite transport service will give you the peace of mind that your new purchase will be handled with care, delivered timely and most importantly done at a fair price. Of course you always have the option of arranging your own transportation, but why deal with the extra hassle? You have enough going on in your busy day, just contact a member of our online dispatch team and allow us to use our years of transport services to work for you. If you have any questions please feel free to ask us and we will get back to you promptly.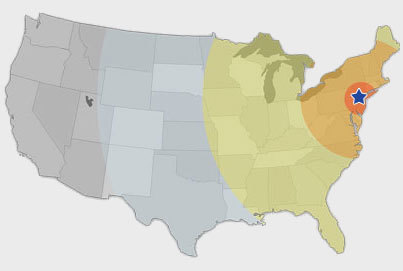 Car Shipping Price Table
| State | From | To | Up To | Notes |
| --- | --- | --- | --- | --- |
| Alabama | | | $550.00 | |
| Alaska | | | N/A | |
| Arizona | | | $1,100.00 | |
| Arkansas | | | $650.00 | |
| California | | | $1,200.00 | |
| Colorado | | | $900.00 | |
| Connecticut | | | $350.00 | |
| Delaware | $100.00 | $300.00 | | |
| Florida | | | $800.00 | EXCLUDING KEYS |
| Georgia | | | $600.00 | |
| Hawaii | | | N/A | |
| Idaho | | | $1,100.00 | |
| Illinois | | | $600.00 | |
| Indiana | | | $550.00 | |
| Iowa | | | $650.00 | |
| Kansas | | | $700.00 | |
| Kentucky | | | $500.00 | |
| Louisiana | | | $750.00 | |
| Maine | | | $600.00 | |
| Maryland | | | $250.00 | |
| Massachusetts | | | $550.00 | |
| Michigan | | | $600.00 | |
| Minnesota | | | $750.00 | |
| Mississippi | | | $700.00 | |
| Missouri | | | $700.00 | |
| Montana | | | $1,200.00 | |
| Nebraska | | | $800.00 | |
| Nevada | | | $1,100.00 | |
| New Hampshire | | | $500.00 | |
| New Jersey | $72.00 | $250.00 | | |
| New Mexico | | | $950.00 | |
| New York | | | $450.00 | |
| North Carolina | | | $500.00 | |
| North Dakota | | | $950.00 | |
| Ohio | | | $450.00 | |
| Oklahoma | | | $650.00 | |
| Oregon | | | $1,200.00 | |
| Pennsylvania | $75.00 | $350.00 | | |
| Rhode Island | | | $450.00 | |
| South Carolina | | | $60.00 | |
| South Dakota | | | $900.00 | |
| Tennessee | | | $550.00 | |
| Texas | | | $700.00 | |
| Utah | | | $900.00 | |
| Vermont | | | $500.00 | |
| Virginia | | | $400.00 | |
| Washington | | | $1,200.00 | |
| West Virginia | | | $400.00 | |
| Wisconsin | | | $650.00 | |
| Wyoming | | | $1,000.00 | |