2016 Is a Good Year for Used SUV Crossovers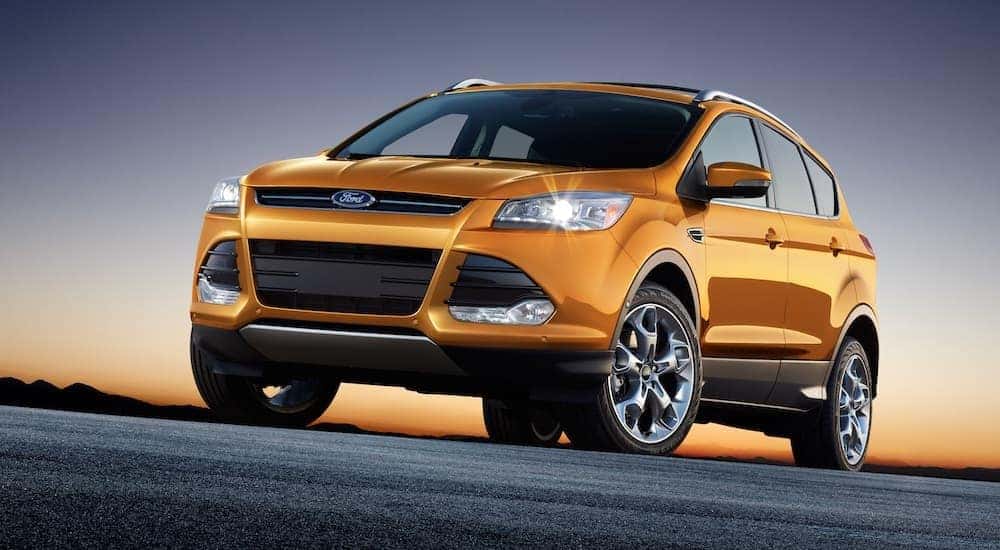 Looking for a used car for sale in the Philadelphia area? Look no further than Northeast Car Connection. We have an extensive selection of used cars for sale, and we're happy to prove it. If you're coming out to Philadelphia Mills, be sure to stop by and check out our affordably-priced selection of used cars—but don't just take our word for it. Let's take a look at some of the vehicles we regularly have in our inventory and see if anything piques your interest. Whether you live in Crescentville or Lawndale, Holmesburg, or Somerton, you might just want to come on down and check out our incredible selection of used cars.
Because we're the used car experts, we thought we'd pass along our expertise, with recommendations for the hot crossover SUV market. With so many crossovers now on the market, it's a great time to find amazing deals on SUVs with low miles that are only a few years old. We're talking relatively low miles and mostly under $15,000.
2016 Ford Escape
This is a car you wouldn't expect to be sitting there at this price point. The Escape offers high style with good fuel efficiency. Not to mention it's fast and handles well.
The Escape is also one of our more popular models, which says a lot in the crowded compact SUV market. Why is it such a popular choice? We mentioned it's fast, and it is, but there's a reason for this. Try the two turbocharged engines offered for the 2016 year—one with 240 horsepower. A new Escape starts at over $24,000, and that's just the starting price. With a used car, you'll be able to find a car with many more options—options you might not have thought you could afford.
How about a tailgate that's activated by waving your foot under the bumper? The 2016 model year was also the year Ford debuted its all-new infotainment system, Sync 3.
Convinced yet? That sounds like a deal too good to pass up—remember, we're just minutes from both the PA and NJ Turnpike.
2016 Nissan Rogue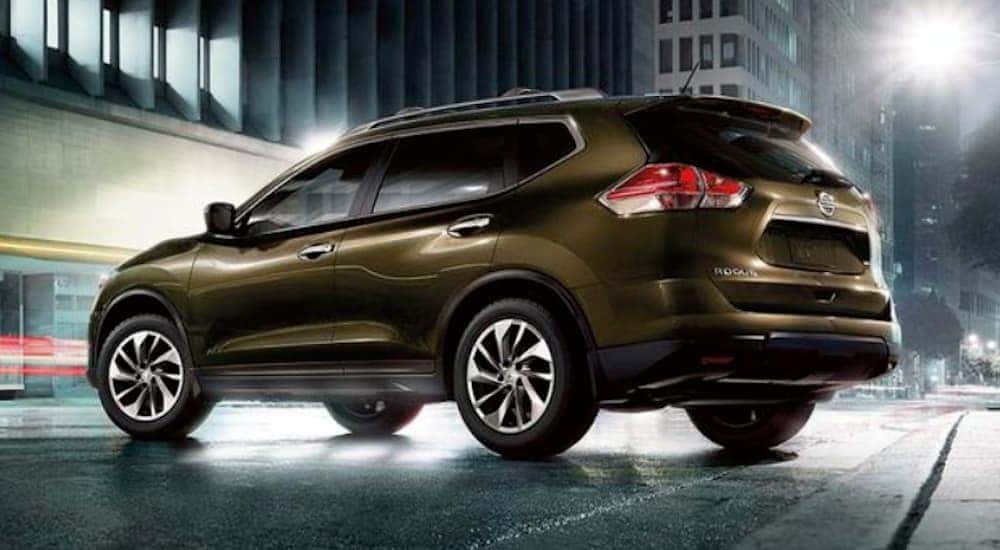 Looking for a smooth, comfortable ride? Maybe a swanky interior? How about 33 mpg? Well, the Nissan Rogue has all of that and more, which is what makes it such an intriguing car. Did we mention the Rogue also has a third-row seat?
These are great features but wait until you see the 360-degree Around the View Monitor, which uses cameras so that you can see all four exterior zones. Imagine how convenient that would be when parking in a tight space. The technology does not stop there—one of our favorite features of the Nissan Rogue are the NASA-inspired "Zero Gravity" front seats. Very cool. This is one comfortable ride and definitely worth a quick drive out to Northeast Philadelphia.
2016 Toyota RAV4
While the Nissan Rogue has an Around the View Monitor, the RAV4 has a 360-degree camera of its own, called the Bird's Eye View camera. Really, there is no downside to buying a used 2016 Toyota RAV4. You might find the price tag is a little higher than its counterparts, such as the Ford Escape, but consider the money you will save down the road. One of the bonuses of buying used is the vehicle already has a track record, so you know if it's a reliable vehicle before you buy it. And the RAV4 has proven to be a trouble-free vehicle.
2016 was the year that the first-ever hybrid model was introduced for the RAV4. So you never know, if you're looking for a hybrid, there might just be one waiting for you. One of the benefits of a hybrid is gas mileage, and the RAV4 does not disappoint. With fuel efficiency ratings of 34/31 mpg, this is a great car for driving in stop-and-go traffic.
If you're looking for a combination of comfort, handling, technology, and fuel economy, the RAV4 delivers.
2016 Audi Q5
We thought we would throw a wrench in your search and let you know it's possible an Audi might drop into your price range. While the price point might be a little higher than the cars previously mentioned, time really makes a difference and brings these cars closer than you might think. We're still talking low miles and a reasonable price.
The 2016 Q5 is a luxury crossover that doesn't shy from the high-end amenities you expect from a luxury vehicle. Leather is standard on all models, and the interior is classic Audi, elegant and comfortable. You'll also be glad to have Audi Connect, the best infotainment system around. Here's a system that features a Wi-Fi hotspot that can service up to eight devices, and Google maps with real-time traffic and news. It's also very easy to customize and has a simple interface.
When we talk Audi, we have to about its powertrains. For 2016, watch out for an efficient and affordable 2.0-liter turbocharged engine and a 354 horsepower supercharged V6. There's also a hybrid and diesel powertrain out there, if you're looking for fuel-efficiency. All Q5's come with an 8-speed automatic transmission that has a manual shift mode, and, we should mention, all-wheel drive with the ability to tow up to 4,400 lb.
2016 Subaru Forester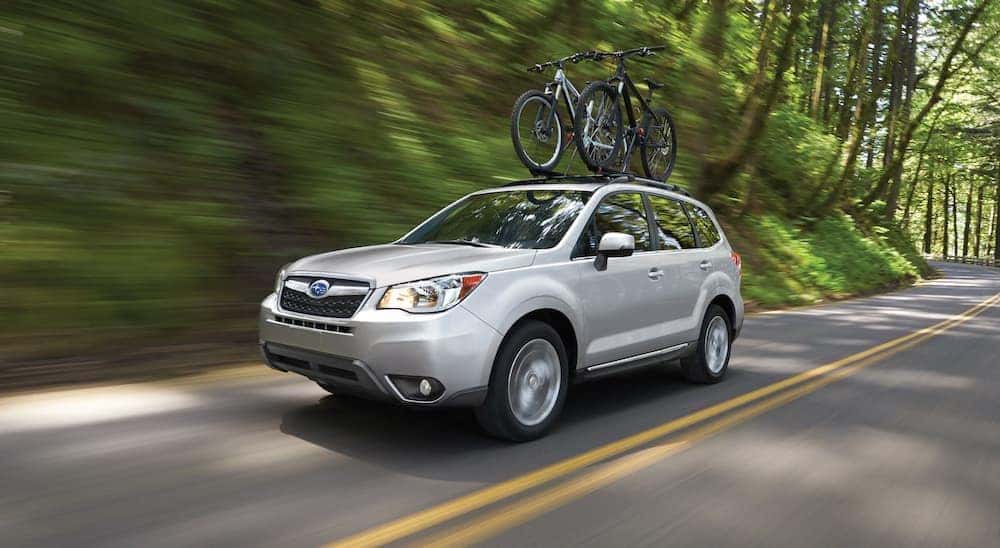 Looking for a family car you can take off-road? Check out the Subaru Forester. Standard on this compact SUV is all-wheel drive, as well as many safety features with the family in mind. All models boast an inspiring 8.7 inches of ground clearance to make the Forester a favorite SUV for snowy areas.
Standard features are abundant and include a 6-speed manual transmission, a rearview camera, and color multifunction display, as well as Bluetooth and a 6.2-inch Starlink touchscreen. There's something for everyone, and we haven't even gotten to the available options: you might find one with a 7-inch touchscreen, moonroof, or leather seats.
The Forester also offers an advanced collision-avoidance system and adaptive cruise control, and what's great about Subaru is you might be able to find one with a manual transmission, something rarer and rarer these days.
What makes this such a great family car is the emphasis Subaru places on safety. In all crash tests, the Forrester took home top honors in its class. With good fuel economy and solid resale value, this car would be a welcome addition to your family. And with a starting price of just over $24,000, there are sure to be deals out there just waiting for you to jump on.
Our Inventory
Of course, we have many, many vehicles in our inventory, ranging from basic transportation and vehicles under $10,000 to luxury vehicles over $40,000. The hardest part will be narrowing down your search with all of the options available to you at so many different price points. Just know that we are here to help and answer any questions you may have in your search for your dream car.
Our inventory is comprised of certified vehicles with clean Carfax reports, so we've taken the headache and worry out of the process of vetting the cars. Looking for a bargain? We also sometimes have vehicles that have had minor work, and we offer these at below market value. So make a day of it, and check us out. We are near Parx Casino and many great shops and restaurants.