Drive Around Philly in a Fabulous Used Ford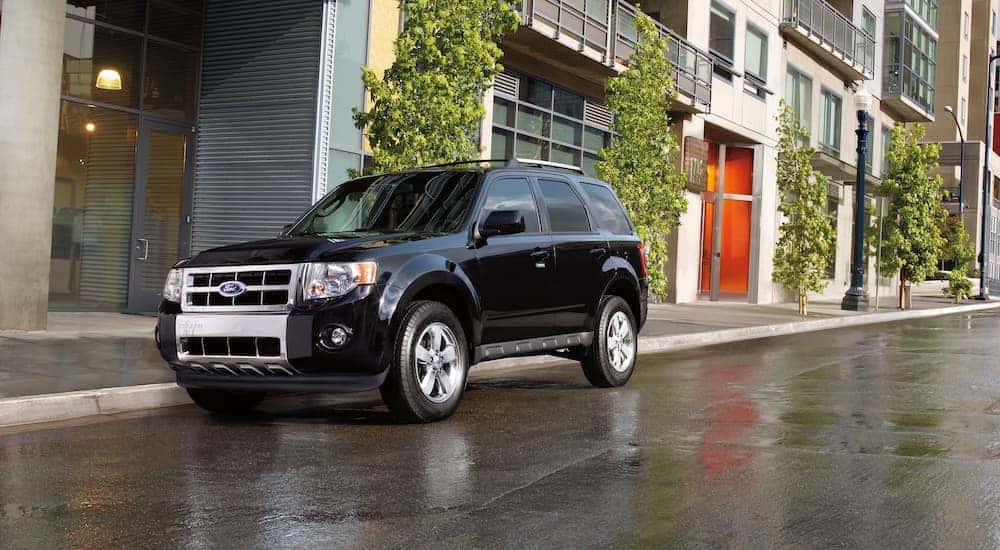 The city of brotherly love is filled to the brim with famous historical sites, family-friendly adventures, and trendy local hotspots that you won't want to miss out on. In order to take in all of the charming character and fun excitement that this popular city has to offer, you need a reliable car or SUV. Between our notorious winter storms, high-traffic roadways, and tight parking spaces, Philly demands a lot of patience and skill from the drivers who dare to pass through. Luckily, the payoff of owning a car in Philly keeps you from waiting around in snow boots at the bus stop. The benefits of finding the right size Ford, properly equipped with safety features, cannot be underestimated. At Northeast Car Connection, we have some of the best used cars for sale in all of Philadelphia. Don't miss out on our favorite used Fords to get you from point A to point B with comfort and style.
The Ford Fusion
The Ford Fusion is the perfect midsize sedan for navigating around this lively city. Fit into a tight parking space with ease at one of Philadelphia's many award-winning food establishments. For a treat from Federal Donuts or a stiff drink at Friday Saturday Sunday, head into the bustling frenzy at Rittenhouse Square. This five-passenger Ford has enough space to comfortably fit you and your best friends without the added hassle of owning a larger, more cumbersome vehicle.
Planning a road trip to New York City or the Berkshires? A used Ford Fusion is a fuel-efficient, safe way to take you anywhere you want to go. Take on the winters without a second thought — first-generation Fusions from 2007 and beyond offered all-wheel drive options on their V6 models. For 2010, the Ford Fusion was named as a Top Safety Pick by the Insurance Institute for Highway Safety. Are you trying to save on gas? The gasoline-electric hybrid version launched in March 2009. EPA ratings for the hybrid were 41 miles per gallon in the city and 36 miles per gallon on the highway. These favorable statistics lead to Kelley Blue Book's recognition of the 2010 Fusion Hybrid as one of its Top 10 Green Cars in 2009.
For a newer used car, consider a second-generation Ford Fusion. This generation was produced from 2013 on with five different powertrains, including two hybrid variants. You can find more driver-assistance technology in a used Fusion from the second generation, as Ford began employing the use of radar, sensors, and cameras to optimize driver confidence. Features like lane keep assist, adaptive cruise control with forward collision warning, active park assist, back-up cameras, and a blind spot information system are commonly included among its various trim levels.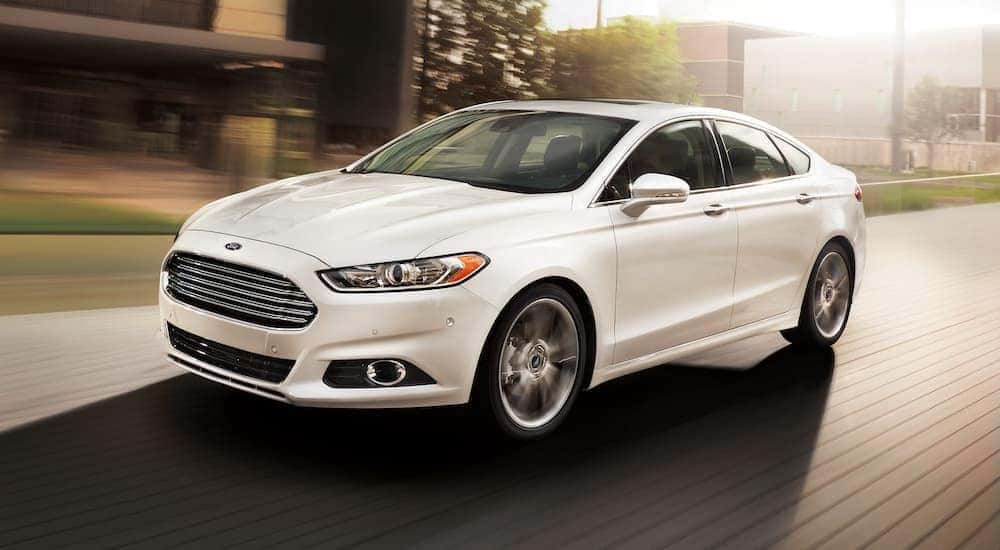 The Ford Escape
For a little extra space, a used Ford Escape definitely fits the bill. With enough space for a car seat or two, you can load up this crossover with little ones and make your way to visit Elmo and the gang at Sesame Place. Four generations of the Fusion have come out since its introduction in 2000. Early models from the first generation (built through 2007) include the following standard equipment: power door locks and windows, anti-lock brakes, keyless entry, a folding rear-bench seat, 16-inch wheels, and air conditioning.
In 2005, gasoline-electric hybrid versions hit the market, providing the perfect balance of fuel economy in an SUV. This version was an impressive 70% more efficient than the non-hybrid version, making it an appealing variant for drivers of both the past and present day. The full hybrid version with front-wheel drive is rated to offer 30 miles per gallon in the city and 28 miles per gallon on the highway. Not only do you stand to save by buying used, the savings follow you down to the gas pump in a hybrid Escape.
On a second-generation Escape (manufactured from 2008-2012), you'll find the electronic stability control system included on all standard models. Styling updates during this generation, and then again for the third generation in 2013, give each version of the Escape a distinctively strong look. Instead of splurging on the latest fourth generation for 2020, snag a slightly used 2018 or 2019 model for a fraction of the price.
The Ford Edge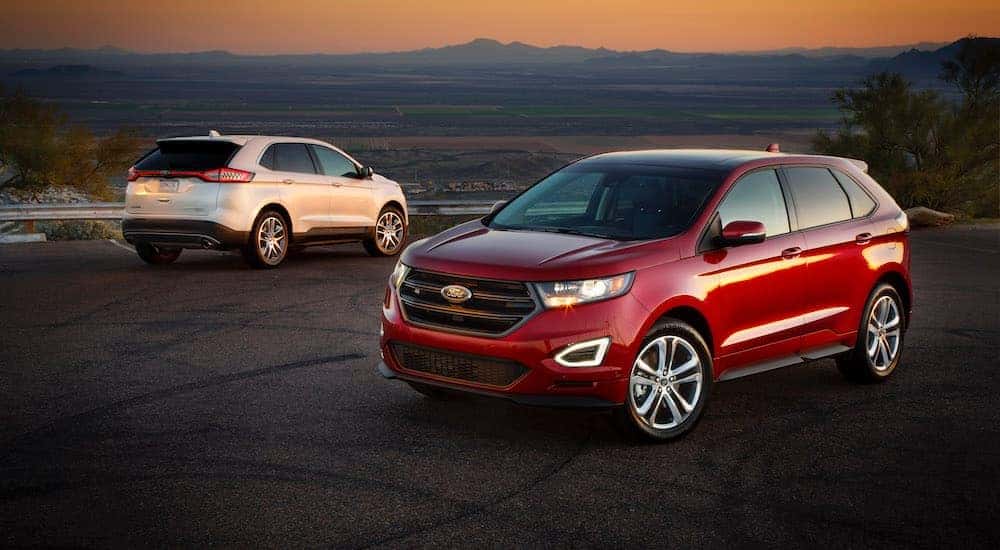 Another great value can be found in the midsize SUV from Ford, the Ford Edge. Take the kids and their friends for a day trip to LegoLand Discovery Center in this spacious vehicle with plenty of space to stretch out. The Ford Edge has a history of being super family-friendly. As early as 2007, the Ford Edge was recognized by AAA and Parent's Magazine as "One of the Best Cars for Families." It was also chosen as a Top Safety Pick by the Insurance Institute for Highway Safety.
The second-generation vehicles, from 2015 through the present, are part of a redesign that brought more interior space to the Ford Edge, along with a handy rearview camera. All models were made with the option of all-wheel drive, only furthering the Edge's reputation as a safe ride. Horsepower is 180 or 210, depending on whether the manual or automatic transmission was selected. An impressive towing capacity of 3,500 pounds makes this SUV a valuable asset for even the toughest household jobs. Use it to tow a bulky new couch or mattress all the way from Grossman's to your apartment or house outside of the city. Who said you need a truck or a Uhaul to take care of your business? A second generation Ford Edge has all the power required to handle heavy towing in and out of Philly.
Pay Us a Visit!
With so many fun places to see, it's easy to go broke in Philly. Do yourself a favor, and don't overspend on your next vehicle. At Northeast Car Connection, we're happy to help you find the best used Ford to support your busy lifestyle. Whether you're searching for a thrifty Ford Fusion, a smartly-designed Ford Escape, or a heavy-duty Ford Edge, our finance center is here to assist you in securing a competitive rate on a quality vehicle that you can depend on. Get pre-approved online or contact our finance team to guide you step-by-step through the process of owning your next vehicle. If you've had financial struggles in the past, including a bad credit score or even bankruptcy, the right car loan can help you get back on your feet and rebuild your credit in a positive light.
Our online payment calculator lets you set the rates and play around with the numbers until you figure out what you can afford. If you have an old vehicle to sell, we offer excellent trade-in value to help pay for your next car. You don't have to spend an arm and a leg to get decent transportation. Check out our selection of hand-picked used vehicles priced under 15k. We specialize in finding financing options for people who have trouble getting approved anywhere else. Don't let bad credit hold you back from getting the vehicle that you need. What are you waiting for? Northeast Car Connection is here and ready to take you out on a test drive.