Used Kia Sedona
Used Kia Sedona
In your used Kia Sedona, you can load up the kids, pop a DVD into the rear-seat entertainment system, and spend hours on the road in total comfort. But, before you start shopping for one of these used minivans, it's a good idea to know how they've evolved over the years. Our buying guide is here to help.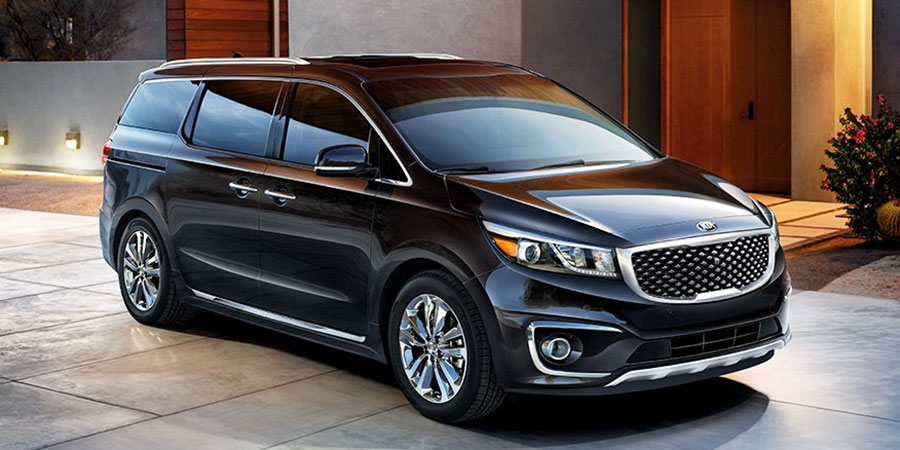 Second Generation: 2006-Current
What you'll love about the second-generation used Kia Sedona
Compared to the original Sedona, the second-generation minivans are both lighter and more powerful. That means you can count on sharp handling in a tight spot and ample acceleration when it's time to merge into highway traffic. Government crash-test scores are also on the up-and-up, with the second-generation used Sedona delivering a perfect five-star rating for overall protection. And, as far as minivans go, the Sedona delivers the family-friendly goods, with rich passenger comfort, generous storage space, and solid build quality.
What features are available?
As you shop around, you'll find two used Kia Sedona trims: the LX and EX. The entry-level LX gives you the better deal on a used minivan, and it also comes standard with everything you need for a comfy day on the road. It's got the requisite three rows of passenger space and support seating, but it also adds front and rear climate controls for maximum comfort. These minivans also come standard with important safety features, such as traction and stability control and anti-lock brakes. Beginning in 2011, the Sedona LX introduced standard Bluetooth smartphone connectivity for hands-free calling and audio streaming.
Upgrade to the used Kia Sedona EX for stylish extras and high-tech options. It features strong alloy wheels to help you through the years in steadfast style. The EX's power liftgate certainly comes in handy on shopping trips. Inside, the power driver seat puts you in the perfect position behind the wheel. On the used lot, you'll find that many of these models include exclusive options, such as upscale leather upholstery. The optional rearview camera supplies enhanced visibility, making it easier to avoid running over your kids' skateboards and other forgotten toys. With the available DVD entertainment system, the used Sedona EX is the ultimate road-trip warrior, keeping young passengers happily entertained for hours at a time.
What used Kia Sedona shoppers need to know
Throughout this generation, Kia has altered the Sedona's powertrain quite a bit. Beginning with the 2011 Sedona, you'll find a sophisticated 3.5-liter V6 under the hood. In addition to 271 horses and ample acceleration, this powertrain lends itself to a smooth, refined ride.
Earlier Sedona minivans featured a 3.8-liter V6, with power output depending on model year. In 2009 and earlier minivans, it made about 250 horses. But in 2010, output dropped slightly to 244 horses. When you test-drive these models, make sure their powertrains work for you.